Getting Started with Lume
Updated a month ago
Welcome to a revolutionary new world of outrageously effective, whole-body odor control! 👋
Whether you are brand new to Lume and looking to learn how best to use your new Whole Body Deodorant or a seasoned Lume expert hunting for some more tips to boost your odor control confidence even further, we're sure you'll find something here that will guide you towards your own perfect Lume routine. Everyone's a little different, so don't be afraid of tweaking our tips a bit to suit your body best. 
Application Pro tips 🙋🏽‍♀️ 
You may have already figured this out, but Lume's a drastically different kind of deodorant than anything else out there. Because of this, applying it is also a little bit different! 
To start, be sure your skin is not wet or damp when you apply! If you've just showered, you'll want to make sure you've toweled off completely and are applying to totally dry skin. When you're dry and ready to apply, we recommend extending the application area 2 inches beyond the hair-bearing area of the pit. There's no way to apply too far outside the pit since Lume is a Whole Body Deodorant & odor can happen anywhere skin touches skin!

And remember, if you're just starting out, it's a good idea to apply daily until you notice you've gone 24 hours odor-free. From there, you can begin to experiment with how often you need to apply! 
Applying our Aluminum Free Whole Body Cream Deodorant or our Whole Body Deodorant plus Sweat Control
If you're using the Invisible Cream Deodorant, you want to make sure you're applying a pea-sized amount, give or take. Just rub it in like a lotion with clean fingertips! If that doesn't seem quite right for your body, try just a tad more and see if that's the sweet spot for you.
Applying our Aluminum Free Solid Stick Deodorant 
If you're using the Smooth Solid Stick, 2-3 swipes should do the trick.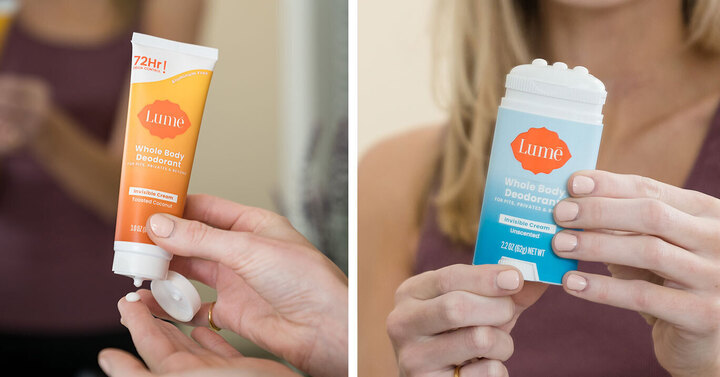 Have you tried our Acidified Body Wash or Acidified Cleansing Bar? ✨
Our Whole Body Deodorants are clinically proven to block odor all day and control odor for 72 hours all on its own, full stop. But keep in mind that odor-free skin is the best base for our Whole Body Deodorant, so starting your odor control routine in the shower with our Acidified Body Wash or Acidified Cleansing Bar will take you to the next level! Why? Regular soap has a basic pH and raises your skin's pH leaving it more vulnerable to bacterial odor reactions. Our Acidified Body Wash & Cleansing Bar are clinically proven to remove odor better than soap and control odor for 24 hours making them our Deodorants' very best friends! 
Think there might be permastink in your shirts? 👚
Dirty laundry isn't the only stinker around – something that may come as a surprise is that both clean & new clothing can sometimes contribute to BO! Odor-causing bacteria called biofilm cement themselves into the fibers of fabric and can get activated by our body heat & moisture causing you to notice a whiff of odor even after laundering. If you're noticing permastink in your clothes or want to try pushing your odor control to the max, we recommend pre-treating clothing with an enzyme spray or pre-wash (we developed some!) By busting that biofilm, you can extend your odor control with Lume Whole Body Deodorants and the life of your clothing. If you're interested in learning more about biofilm, clothing prep, & Lume's laundry products, continue reading here! 
Was this article helpful?